Recently, I have found out that my wife is a money wizard.
I have often complained about her spending on clothes – especially the expensive designer items. However, after analyzing our spending on clothes, it is much smaller than I expected.
The answer is simple. My wife is an expert at buying and selling in the second-hand market. Let me tell you what she does and how you can sell your clothing for cash.
I met some people at a FIRE event who didn't think my wife and I looked like traditional FIRE people. I believe the main reason is that my wife probably dresses a bit more fancy than most.
My wife has built up a wardrobe of high-quality designer clothes. She is often selling her old clothes and buys secondhand ones. She actually manages to spend very little on these items. The genius thing is that she is buying at very reduced prices. She can wear them for 6 to 12 months and then sell them again, wait for it… at the SAME PRICE! The key is that you have to buy high-end, quality clothes. The cheap ones will not last long and people will not be interested in buying them from you.
Sometimes a quality second-hand item will be even more popular when you can't buy it in shops anymore. I don't claim to understand why people feel this way about clothes, but from my wife's trading, I can see that they do.
I don't support crazy expensive designer clothes where you pay an excessive premium for what you get, but I do believe you should always buy quality things. Luckily, it turns out, this can be a good business 🙂
Of course, you have some initial costs of building up a wardrobe of quality items, but once this is done, you can keep on replacing it over and over at a relatively low cost. Or in the case of my wife, she often makes a profit out of it.
The only negative side is that it takes time to list and coordinate the sales. You also spend time looking for the right items and negotiating the right price.
How to sell your clothes online
The name of the game is "Preloved". You are selling clothes that you have worn and taken great care of. This tag tells people that the clothes are in good condition and do not have tears or holes. Before you put up your clothes in online shops, I would like to tell you about a few things my wife does before the sale:
Freshen up your clothes
Stains and wrinkles have no place here! When it comes to selling preloved clothes, you need to work hard on their presentation. Before taking any pictures, wash and iron them, and to avoid any wrinkles, put them on a hanger. Another thing that you need to focus on here is the packaging. The clothes should be folded properly and placed in a plastic wrap, before being closed in a cardboard box. Imagine you are giving something to your best friend and then pack the clothes in the same manner.
Take clear pictures
Once the clothes have been hanged, don't waste any time taking pictures. Hang them in front of a white backdrop so that they are completely visible.
Write a short and catchy description
Apart from giving details about the dress you are selling, make sure to write a description that will capture the buyer's attention. Always write something along the lines that what buying this dress will bring to their wardrobe.
Do not price items on your own
Do research on the same secondhand clothes being sold online and note down their price. Zoom into the pictures and assess their condition, and then price your clothes accordingly.
Now that you know the basics of how to sell your clothes, let's check out some of the online shops where you can do this:
Online Selling Platforms
Obviously, we live in Denmark and use local Danish platforms to sell clothes too. However, my wife has great success in buying second-hand clothes on international sites to get good deals.
Etsy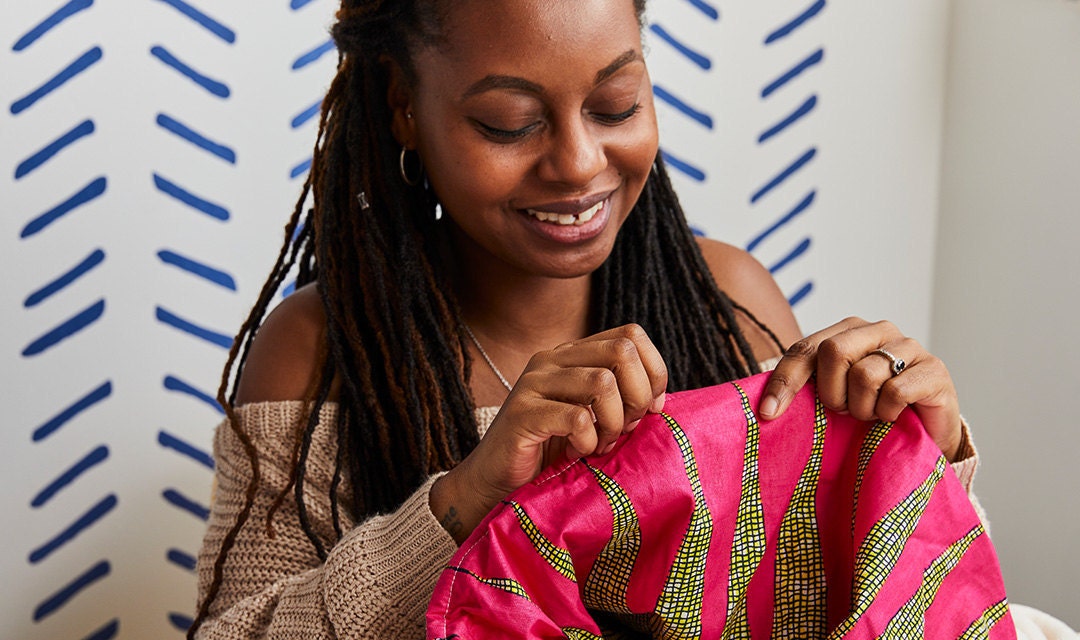 Etsy is a global marketplace that connects people over special goods. Whether the clothes you are selling are vintage, handcrafted, unique, or custom-made, Etsy has a place for you to sell them. The online platform charges a 3.5% transaction fee, 20 cents for listing an item, 3% payment processing fee.
ASOS Marketplace
ASOS Marketplace provides you access to more than 800 vintage boutiques where you can buy and sell secondhand clothes. From Tommy Hilfiger to Girl Knows All and Barnardo's, this platform offers all types of well-known and independent brands. ASOS takes a 10% commission on the sale.
Poshmark
Poshmark is a social commerce market place that provides you access to top brands such as Nike, Michael Kors, Louis Vuitton, Lululemon Athletica, PINK Victoria's Secret, Coach, Chanel, and more. Selling your clothes on this platform is pretty easy. All you have to do is select a few items from your closet, start sharing your listings, interact with other shoppers, and as soon as someone places an order, the platform credits your account with money after the delivery.
Refashioner
Refashioner is every girl's dream secondhand clothing platform. The clothes sold here are of the highest quality and by some well-known names in the industry such as Cindy Gallop, Mellissa Clark, and more.
Mosh Posh
At Mosh Posh, you can only sell high-end and the finest clothes having brand tags such as Kate Spade, Hermes, Gucci, Prada, Louis Vuitton, and more. Mosh Posh has a physical store in Tampa and an online platform. So if you want to see what type of standards Mosh Posh has, you can visit it easily.
ThredUp
ThredUp is regarded as one of the best thrift stores amongst secondhand clothing platforms to sell your clothing for cash. It is known for accepting only 40% of the items that come their way, to make sure that customers get the best of the best. All you need to do is fill up their "clean out kit" and leave it outside your door. The mailman will deliver the clothes to ThredUp. You receive 80% of the sale price when your clothes are sold.
The RealReal
The RealReal does not just sell any clothes they are delivered! More than 100 experts look over the inventory and make sure that their customers are receiving quality clothes with no damage. Sellers get 85% of their sale price. You can either USPS the clothes or ask for a free home pickup form the platform.
LePrix
Previously known as Snob Swap, LePrix does not have a rigorous authentication process like the above mentioned online platforms. Listing is free and the platform only takes a small percentage of the sale price. You can either sell directly or deliver your clothes to Snob Swap.
Tradesy
While Tradesy is quite popular for selling branded handbags, it also does exceedingly well in clothes and wedding dresses. If you are planning to sell a dress for less than $50, then Tradesy will charge you a $7.50 commission fee and for clothes more than $50, you will get 80.20% of the sale price.
Vestiaire Collective
Vestiaire Collective is a French connoisseur is designer pieces. While the fees for selling your clothes are a bit higher than the above-mentioned platforms, it does bring you more money compared to eBay. All clothes are authenticated before they are uploaded online. They have a list of 5,000 brands and you can only sell clothes that belong to these labels. Any item uploaded must have a price tag above £20.
There are plenty of other online platforms for selling your clothes such as Instagram, Facebook Marketplace, Depop, Preloved, Grailed, etc. We will run out of space and time but not the number of online platforms where you can sell your preloved clothes 🙂
This whole second-hand market has been an eye-opener for me, and while I do believe it works best for women's clothes, I can see that the market for men's clothes is expanding too.
Good luck with selling your clothes for cash!
Your turn: What kind of clothes are you planning to sell to make some cash (if any)?